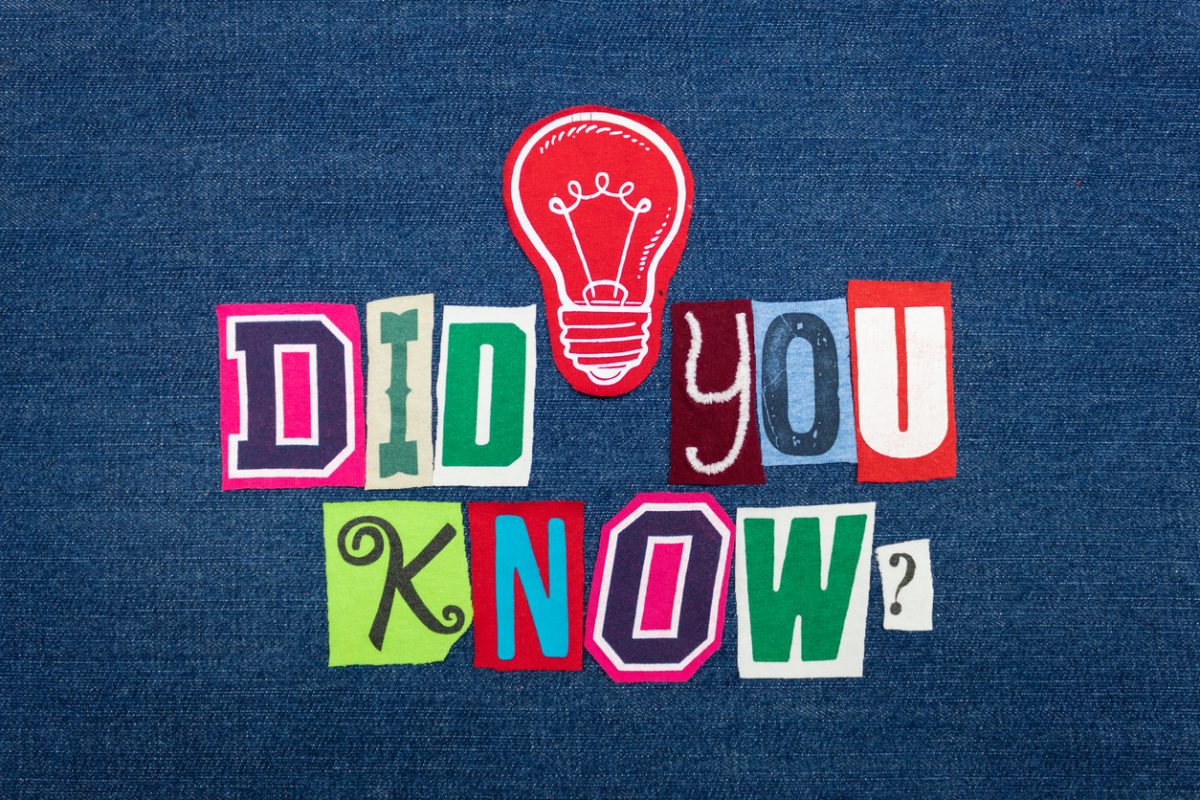 62 College Facts to Share
Sharing college facts during school announcements, at the start of class, on bulletin boards, in newsletters, or during down time at sporting events can be a great way to keep college planning top of mind. Here are 62 facts to share.
Did you know…
 It is more affordable to go to college in West Virginia than almost any other state. 
Almost all West Virginia students get help paying for college through scholarships and grants, known as financial aid.
Students can to school from 1-4+ years. Try to learn about the type of education needed for different careers and job options. 
Students who complete a four-year college degree earn, on average, a million dollars more over their lifetime than students who stop their education after high school. 
College graduates are more likely to have steady jobs. 
Marshall University is named after the famous United States supreme court justice – Chief Justice John Marshall. 
Students at West Virginia University get to class by taking a small train called the "P.R.T."
The mascot at WVU is a mountaineer. 
Glenville State College's mascot is the Pioneer.
West Liberty's mascot is the Hilltopper. 
Concord University's nickname is "Campus Beautiful," because the buildings and gardens on campus are so pretty.
Bluefield State College is also called "Big Blue."
WVU Tech is a partner campus of West Virginia University and it is located in Beckley. 
Potomac State College is a partner campus of WVU, and it is located in Keyser in the state's Eastern Panhandle. 
Some college campuses have fitness centers, restaurants, coffee shops, swimming pools, convenience stores, and even bowling alleys and movie theaters! 
Shepherd University is located in Shepherdstown, WV, a small town with just a couple of streets. But it is also only an hour and a half away from the nation's capital, Washington, D.C.!
Students can earn certificates or degrees in just one to two years by attending a community or technical college. West Virginia has ten community and technical colleges with multiple campuses.
Financial Aid and College Costs
West Virginia's public colleges and universities offer some of the lowest tuition rates in the country!
The average cost of tuition for one year at West Virginia's public four-year colleges is approximately $7,793.
The average cost of tuition for one year at the state's public two-year colleges is about $4,221!
West Virginia provides more financial aid dollars per student than almost any other state in the nation.
Students of any age or income-level who plan to pursue a certificate program, two-year college degree program, or four-year college degree program should complete the FAFSA — or Free Application for Federal Student Aid.
The FAFSA is free to submit, available online after Oct 1, and it's a requirement for not only federal financial aid, but also for many state financial aid programs!
West Virginia offers several grant and scholarship programs, including the PROMISE Scholarship Program, the West Virginia Invests Grant, and many more!
Career Outlook and Economic
In 2016, only 31% of West Virginians aged 25-64 held at least an associate degree. Earning your college degree opens up opportunities!
Students who complete a bachelor's degree program earn, on average, a million dollars more over their lifetime than students who stop their education after high school.
During the recession, unemployment rates for college-educated workers stayed low relative to unemployment rates among those with a high school diploma or less.
College-educated adults are more likely to receive health and pension benefits and to be satisfied with their jobs, and a college education leads to healthier lifestyles.
On average, the benefits of a four-year college degree are equivalent to an investment that returns 15.2 percent annually — more than double the average return on stock market investments since 1950.
College Planning and Exploration
West Virginia's students and parents can get free help planning, applying, and paying for college by visiting the College Foundation of West Virginia's free college- and career-planning website available at CFWV.com.
Students can practice for the ACT and SAT for FREE at CFWV.com, the state's free college- and career-planning website.
Students can apply directly to all of West Virginia's public two-year and four-year colleges and universities through CFWV.com. CFWV.com is West Virginia's free college- and career-planning website!
Q & A: The Basics
Two-year or four-year public colleges or universities are regulated and funded in part by the State.
An independent or non-profit college or university are organizations that do not receive direct funds from the State.
A for-profit college or university is a business that provides higher education as its service.
Certificate and licensing programs are specialized plans of study that are usually intended for students planning to pursue a trade, many can be completed in a matter of months.
Associate degrees are typically awarded to students who complete a two-year period of study at a college.
Bachelor's degrees (or baccalaureate degrees) are typically awarded to students who complete a four-year period of study at a college or university.
Postsecondary education is education and training beyond high school.
Q & A: College Entrance Exams
The most common entrance exams to a four-year college, that helps to determine whether or not you are ready for college-level work are the ACT and SAT.
The ACT exam comes in four parts or sections: English, mathematics, reading, and science. Scores range from 0 to 36.
Both the ACT and SAT exams require you to register to take the test and pay a testing fee.
The state of West Virginia offers FREE online test prep courses at CFWV.com.
Most students do better the second time they take the ACT.
Students should take a college entrance exam in their junior year to allow time in order to meet admissions and/or scholarship application deadlines and allowing them time to retake the test if desired.
ACT scores are not required for two-year public colleges.
Know the Lingo
A credit hour is a unit of value given to classes; often based on the number of hours a student is expected to attend class each week. Students can be considered "full-time" or "part-time" students.
Twelve credit hours is typically the minimum required for full-time status for undergraduate students in West Virginia.
A student must complete at least 15 credit hours per semester in order to graduate "on time" (completing a four-year degree in four years or a two-year degree in two years).
A financial aid package is the combination of grants, scholarships, loans and work-study stipends or funds a student receives to help offset the cost of attending college.
A major is a subject or discipline in which a student chooses to specialize.
An "orientation" is an event hosted by a college to help new students understand the enrollment and college-going process, such as how to register for classes and how to pay tuition fees.
It is important to go to a college that has been accredited, meaning that a reputable outside organization has verified that the college meets a minimum level of quality.
Applying
Application deadlines vary from school to school and program to program. For example, the general admissions deadline at a college might be April 1, but the deadline to apply for its nursing program might be February 1.
Other than your application — the admissions office at a college will or is likely to request an official transcript, ACT/SAT scores, a résumé or list of accomplishments and activities, an essay, and a letter of recommendation.
If a student can't afford to pay a college application fee or ACT or SAT registration fees they can talk to the school counselor or a college admissions counselor about receiving a "fee waiver."
The Right Fit
When deciding on a college or program students should consider: programs and majors offered; academic quality; cost and availability of financial aid; success rates; environment and campus life; and location.
When deciding on a college or program students should probably ignore: their friends' decisions; school sports records; sticker price; fancy residential facilities; and nerves/normal jitters.
Experts recommend students apply to between four and six schools – at least one "stretch" school, two "fit" schools, and one "safety" school.
A "stretch" school is highly competitive and admits very few of the total students who apply; the school intimidates the student; the student's test scores and GPA are on the low end or just below the average range for students attending this school.
A "safety" school has an "open admissions" policy, meaning that any student who meets the basic criteria outlined by the admissions office will be accepted.
Most colleges and universities are public spaces and students should feel free to stop by and walk around, or set up an official tour with an admissions officer.